KR Pate: Chief Minister BS Yeddyurappa said that necessary steps will be taken to reopen the Mysuru and Pandavapura sugar factories, which are the lifeline of the farmers of Mandya district.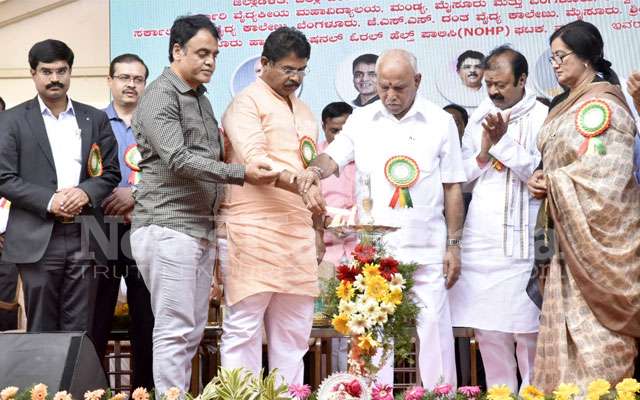 They are located at the Karnataka Public School (Century School) in the town, Department of District Health and Family Welfare, Government Medical College, Mandya Mysore and Bangalore, Kidwai Hospital Bangalore, Government Dental College Bangalore, JSS Dental College Mysore, Sri Jayadeva. Free Cardiovascular Hospital, Mysore and National Oral Health Policy Unit Speaking at the inauguration of the Dharam Health Fair.
The credit of the KR Pate Taluk, which gave birth to me, is on me. So, for the comprehensive development of the taluk, KC Narayana Gowda will be given the necessary grants from the government and our government will be in power for the next three and a half years. I have seen many lawmakers in my political career. But he has never seen an honest politician with an active and active personality like Narayana Gowda. Such a good person had been selected twice by the people of the KRPate Taluk and sent to the assembly. He appealed that the coming election should be again blessed and empowered to work on the development of the taluk.
I will take immediate action to help the private sector to rehabilitate the Mandya Mysugar factory and the PSSK sugar factories. Hemavathi Nala Modernization, Concrete Road, Multicultural Drinking Scheme, Separate Hostel for Boys and Girls in Minority and Backward Classes, Modernization of Mandegere-Hemagiri Canals, Regional RTO Kachereri Road, Mysore-Channamayatta Road Jodarus from Sravanabelagola Road to Puthukkottai Singammanagudi February construction, the construction of the library, including the high-tech park, jogging track around the lake and boating vyavasye devirammanni talukannu rajyadalliye, including integrated development model will hear narayanagaudaru madikoduvudagi said.